MJW CONSOLIDATED MEETS FIRE PROTECTION CHALLENGE FOR LARGE AIRCRAFT HANGAR 
CHALLENGE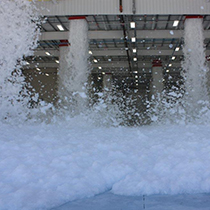 A new hangar at Cecil Airport in Jacksonville, Fla., was constructed to house up to three fueled Boeing 757/767-size aircraft. Hangar 905 would require a sophisticated fire protection system to ensure the safety of the facility, the aircraft, and the facility personnel, as well as nearby infrastructure. 
SOLUTION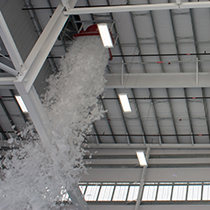 The project's design-build team partnered with MJW to design and construct the fire protection system for Hangar 905. Beginning with a blank sheet of paper, a team of experienced Milton J. Wood Fire Protection professionals designed a high-expansion foam system, which would include 34 huge High-X foam generators designed to operate simultaneously. When combined with other secondary fire protection systems, they would require in excess of is 10,000 gallons per minute from the from the fire protection infrastructure at the site, a former Naval Air Station. 
RESULTS
A test of the system, believed to be the largest single-zone system of its kind in the world, filled the hanger with an eight-foot blanket of foam within minutes. The project was deemed a total success.