GIVING BACK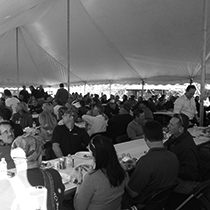 MJW is committed to supporting and rewarding all of its stakeholders — employees, clients, suppliers and communities because we understand that our success is a team effort with many contributors. Among the programs and events we sponsor are:
Milton J Wood Scholarship Program
The Milton J Wood Scholarship Program supports eligible company employees and their children seeking a higher education. Begun in 2012, the program has grown rapidly from providing $25,000 in scholarships to seven students in its first year to funding $60,000 in 2022. Annual scholarships ranging from $3,000 to $8,000 are awarded based on academic record, demonstrated leadership and participation in school and community activities; honors; work experience, statement of goals and aspirations, unusual personal or family circumstances and an outside appraisal. The scholarship program is administered on behalf of MJW by Scholarship Management Services®, a division of Scholarship America®. Since inception, MJW has funded $610,000 to the program and 106 scholarships have been awarded.
Christmas Cookout
The annual MJW Christmas Cookout is a one-of-a-kind "thank you" event that has become a holiday-season favorite for MJW employees, clients and vendors. The old-style country cookout features traditional fried turkey, a Low Country seafood boil, and a variety of dishes prepared with wild game taken by MJW employees who are licensed hunters. In addition to offering great food and fun for over 300 attendees at MJW headquarters in Jacksonville, Fla., the event has been expanded to our Lakeland, Fla., Titusville, Fla., and Savannah, Ga., locations.
Company Picnic
The annual MJW company picnic draws more than 300 employees and family members for a day of activities, entertainment, food, and fellowship. The venue has changed several times as the event has grown; the 2023 spring picnic was held at SeaWorld Orlando  with over 440 attendees.  One of the highlights of the annual picnic is the presentation of MJW service awards.  
Service Awards
MJW is proud to have many long-tenured employees whose expertise is a major factor in the company's continued success. We show our appreciation for their service through an annual service awards program at the company picnic. Employees receive either a traditional MJW silver belt buckle or a MJW charm necklace/bracelet for 10 years of service. In addition, employees with 20 years of service are awarded a company ring, bracelet or watch and each five years of service thereafter are recognized with additional diamonds and gift certificates. In 2022, MJW was proud to recognize at the company picnic 16 employees with 20 or more years of service.
Biggest Loser
One of the ways MJW promotes employee health and wellness is by sponsoring a Biggest Loser challenge. In addition to being motivated by friendly competition and the promise of better health, participants vie for a sizeable cash prize. The company contributes $100 per entrant and participants kick in $25 each toward the grand prize. The competition begins with a starting weigh-in and culminates six months later with recording of the participants' ending weight. (All weights are confidential!) The winner — the person with the largest percentage weight loss — and other participants are recognized during an awards ceremony at the Annual Christmas Cookout.
Charitable Support
MJW management and employees support a wide range of charitable causes in their communities. Our executives serve on non-profit boards, and the company participates in a variety of fundraising drives for worthy causes. In addition, our civic-minded employees support many charities through their contributions as well as their affiliations with service organizations and churches. MJW's tradition of "Share our Blessings" campaign includes giving away every dollar collected thru vendor rebates, promotions and early pay discounts to those in need. Over the last 7 years, MJW has donated over $600,000 to support various charitable causes.
Employees & Retirees Celebrate a Festive Company 50th Anniversary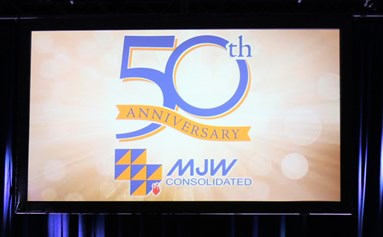 In August of 2019, 370 MJW Consolidated retirees, employees and guests gathered at the Omni Amelia Island Plantation Resort to celebrate MJW's 50th anniversary. On hand for the gala event were Marjie Wood, wife of founder Milton J. Wood, and their son Mark S. Wood, former president and now chairman of the board.
In the opening reception, guests were greeted with a timeline display that illustrated MJW's 50 years of progress. When the doors opened to the Magnolia Ballroom, guests were welcome with a video presentation with pictures from many key projects and events throughout the company's history.
Welcoming the guests was Chief Executive Officer Zarko Ognjenovic. Mark Wood had the honor of announcing the creation of the MJW Hall of Fame, which honors employees who've played a critical role in the company's success, by introducing the first seven inductees.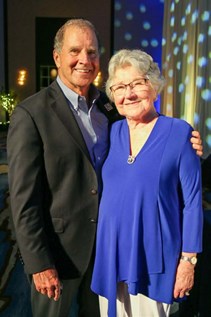 A highlight of the evening came when Chief Operating Officer Chip Bozeman called for the presentation of a cake to celebrate and honor Marjie
Wood's upcoming 90th birthday. After dinner, guests were able to enjoy dancing in the ballroom and a variety of lawn games and activities outside. As a special expression of appreciation for employees and retirees, the company provided gift bags and a night's lodging at the Omni so guests could thoroughly enjoy the festivities. The celebration proved a memorable moment in MJW Consolidated's 50-year history, with many more milestones yet to come.