BUILT ON A CENTURY-OLD FOUNDATION OF EXCELLENCE
The MJW story is an inspiring American tale of hard work, ingenuity and a commitment to the beli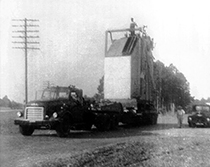 ef that value is the key to success — for a company, for its clients, and for its employees.
Our company was founded in 1969 in Jacksonville, Fla., but its roots extend back much further, to Wood Brothers Contracting, which opened its doors in 1917. Specializing in heavy equipment rigging and house moving, the original company was the proving ground for the founder of today's company — Milton J. Wood.
Milton's career in construction began when his father, Milton Monroe Wood, asked him to quit high school and join the family business. The younger Wood left briefly to fight in World War II, but returned to the business as an ironworker immediately after the war, working on steel erection, heavy rigging and hauling jobs. Having learned the business from the ground up, Milton resumed his education. He earned a degree in civil engineering from the University of Florida and came back to the company in the role of chief estimator and project manager.
After a change in ownership of the original company, Wood saw an opportunity to fill a niche in heavy industrial construction that was underserved in the Southeast. He founded the Milton J. Wood Company, which in 1969 consisted solely of him, his wife, Marjie, and their two teenage sons. He relied heavily on his own system for estimating and completing a job, which broke down into three steps: planning, scheduling and execution — and he performed all three.
Drawing on his previous experience in the field as well as the front office, he soon forged a reputation as the go-to company for dangerous jobs with zero tolerance for error and exceptionally tight schedules — jobs that many companies considered impossible. As the company's successes grew, so did clients' demand for additional services. In response, the company expanded from primarily offering heavy equipment setting to also performing pile driving, concrete placement, steel erection, process piping, equipment erection, boiler repair, and code welding. The company moved into a large office in downtown Jacksonville and eventually opened branches in Brunswick and Savannah, Ga., as well as Lakeland, Fla.
In 1991, the company expanded into fire protection systems, and it began to build an engineering expertise that would eventually become its own line of business within the organization. In 2008, HVAC services were added to our line of services. While fulfilling Milton's dream of becoming a full-service provider of construction solutions for our clients, we also have spread our reach both nationally and worldwide, having completed projects from the Southeastern United States to East Asia.
Although the company has grown tremendously since its inception, Milton's values and methods have continued to drive our success. His commitment to meticulous estimating, painstaking attention to detail, and devotion to the client are carried on by his son, Mark, the chairman of today's company, by the management team and by every MJW employee who are now the proud owners of the company.
The same core values of quality, integrity and dependability that our founder instilled in the company are now being passed down to the next generation of employee owners. If Milton were here today, this would be his greatest source of pride.