MJW INCREASES FIREWATER FLOW, FLEXIBILITY FOR BP ILLINOIS TERMINAL
MJW Consolidated recently completed the design and installation of new, custom-made fire protection equipment at BP petroleum storage terminal in Mokena, IL, to provide additional flexibility and flow capacity for the site's firewater system.
MJW performed detailed system analysis and worked closely with the local fire department to determine the appropriate location, size and configuration for a new high capacity fire hose connection manifold, capable of supporting the targeted firewater flow of 7,600 gallons per minute.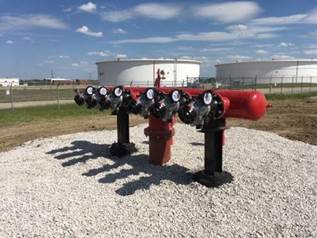 Because of its size, the large-flow manifold required custom design and construction. The unit was built by MJW Consolidated fabrication shop in Titusville, FL, which also fabricates components for the NASA Kennedy Space Center complex. The Titusville shop completed the manifold on an accelerated 6-week timeline, enabling the entire project to finish a week ahead of schedule.
As always, safety was the focal point during the entire installation at this active storage tank terminal. The combination of safety, professionalism and efficient cross-disciplinary execution demonstrated why MJW is a preferred contractor for numerous specialized industrial clients in the US and abroad.

July 01, 2017 | by MJWood