MJW Completes Rail Unloading Project for Continental Building Products
MJW Consolidated has completed a rail car unloading project for Continental Building Products at Palatka, Fla, that is helping the gypsum wallboard manufacturer meet its demand for raw materials.
Completed in July, the project involved the construction of an unloading and conveyor system that removes gypsum from incoming railcars and transfers the material to storage piles. MJW self-performed the excavation, construction and equipment installation for the project.
One of the main features of the project is a concrete-lined, 18-foot-deep receiving pit and 16-by-26-foot concrete ramp. To create the pit, MJW excavated 1,000 cubic yards of soil and poured 560 cubic yards of concrete, including 40 sonotube foundations.
 The unloading process involves a rail car rolling into position above the pit, where it is grabbed by a hoist and shaken to fully discharge the material from an opening at the bottom of the car. Inside the pit, two Cogar feeders move the gypsum to a conveyor system that carries it to a radial stacker in the storage yard. MJW crews installed 1,260 feet of conveyors with cover supports and two transfer towers. The project required 30,000 pounds of structural steel.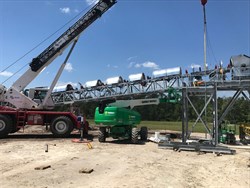 The entire project was completed while the plant was in operation. MJW crews worked six- to seven-day weeks throughout most of the project. "Keeping the pit dry during the summer months was one of our biggest challenges," said Justin Freeman, project manager. "But we had an experienced team on the job with an exceptional group of supervisors who kept us on track throughout an aggressive project schedule."
November 01, 2018 | by MJWood