MJW Celebrates Grand Opening of New MJW Space Coast Office in Titusville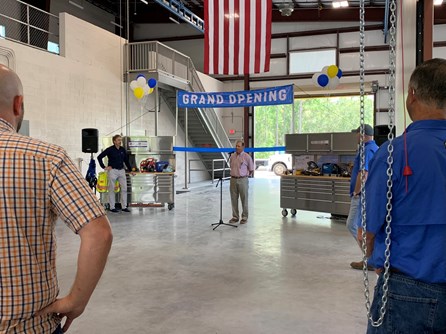 On August 26--53 years after Milton and Marjie Wood founded the Milton J. Wood Company--MJW celebrated its anniversary with the grand opening of the MJW Consolidated Space Coast Office in Titusville, Florida.    
This endeavor was completed with the same commitment that Milton and Marjie Wood made in 1969 as they founded Milton J. Wood Company. They knew then that the road would be long and challenges would be present at every turn, but they also knew they would prevail and build their dream. The new facility will provide MJW additional opportunities for the future, and thus continue the dreams of the company's founders to be the preferred construction services provider for its clients. MJW is committed to the new Space Coast Office serving clients with mechanical, civil, structural and fire protection services, staffed with the expertise and dedication to execute any project. The new 12,300-square-foot facility is dedicated to founders Milton and Marjie Wood, Chairman of the Board Mark Wood, and to each of the team members who have worked to build the company's excellent reputation, to the craftsmen and women that have produced the quality product in the shop and field, and to the clients that trust MJW's expertise and experience. 
The new facility features two fabrication bays, offices and a break area on the first floor and a second floor mezzanine for specialty fabrication and assembly tasks.
September 01, 2022 | by MJWood