GP CELLULOSE BRUNSWICK - CHIP THICKNESS SCREEN AND MOTOR CONTROL CENTER BUILDING
MJW Consolidated recently completed a $3.5 million job at GP Cellulose at the Chip Thickness Screen (CTS) and Motor Control Center (MCC) buildings. The job consisted of constructing a six-story structural steel CTS building and a one-story MCC building. 
Work at the CTS building included: 
Site clearing
Installation of 136 55-foot long precast concrete piles
Formation, placement and finishing of 810 cubic yards of concrete foundations and slabs
Installation of 85 tons of reinforcing steel
Pumping and placing 500 cubic yards of concrete on all eight levels of metal decks
Fabrication and erection of 600 tons of structural steel and the installation of an architectural metal roof  
The MCC building construction included a concrete pile supported slab and concrete masonry unit structure adjacent to the CTS building.  The MCC will house all of the electrical equipment that supports the function of the equipment that will be set in the CTS building.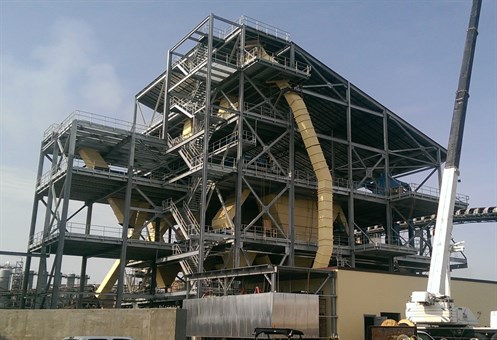 More than 20,000 man-hours were used to complete this project, working six days a week, 10 hours a day for over 30 weeks without any loss time safety incidents. 
The success of this project was a result of Johnny Beecher's supervision, along with Wade Douglas' oversight of all the precast piling and Curtis Dyal's management of the structural steel erection.
July 01, 2015 | by MJWood