Aspen Aerogels Engages MJW for Fire Protection and Suppression Systems at New Bulloch County, Georgia Plant
Aspen Aerogels will invest in excess of $300 million to build a new factory in Bulloch County, Georgia, for the production of aerogel thermal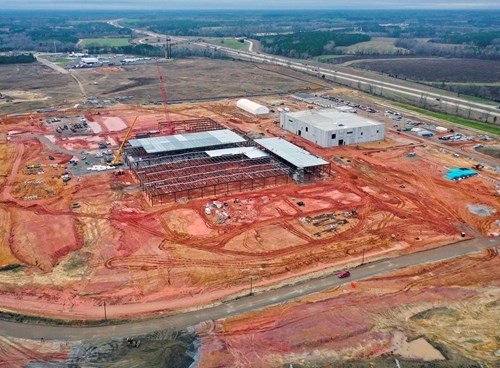 insulating material used in electric vehicle batteries. This investment will coincide with the construction of Hyundai Motors electric vehicle and battery manufacturing plant in nearby Bryan County. Once up and running, the Aspen Aerogel plant is expected to create approximately 250 jobs for the region.
MJW has been contracted by Turner Construction to design, fabricate and install plant-wide fire protection and fire suppression systems for this facility. This unique project involves several different aspects of work. MJW's team was initially engaged in a design-assist role with Turner and the Engineer of Record, Thompson Consultants Inc, to develop a more cost-effective design and construction approach for the variety of systems required to adequately protect this facility. Installation sequence started with installation of approximately 1,200 LF of fused 10-inch HDPE high pressure discharge piping from a fire pump located in the main utility building to several system risers inside of the manufacturing facility. In addition to multiple wet and dry automatic sprinkler systems, the facility will also be protected with several foam/water sprinkler systems and equipment-specific high pressure CO2 fire suppression systems.
MJW's current work constitutes an early phase of work, with further potential for expanding this partnership with Turner Construction and Aspen Aerogels on future manufacturing building additions and expansions on this site.

March 01, 2023 | by MJWood