NAVY FACILITIES ENGINEERING COMMAND TO SCORE MJW PROJECT AT NAVAL AIR STATION IN KINGSVILLE, TEXAS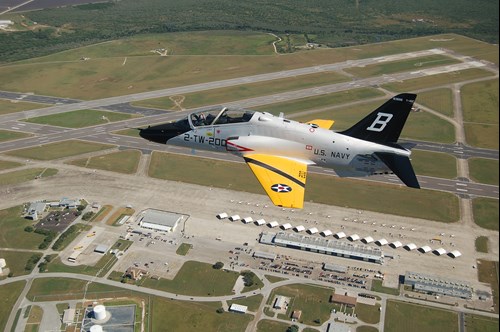 MJW Consolidated is diligently working on a design-build project at Naval Air Station Kingsville in Texas that could help the company win future projects with the Naval Facilities Engineering Command.
The NAVFAC will score MJW's design and construction of a new fire pump house as part of its evaluation of companies competing for a Multiple Award Construction Contract for its assets in the Southeast, which could result in up to $99 million in work over five years.
MJW is competing with other companies performing separate projects and will be judged on several criteria, including communication, scheduling and execution.
With the collaboration of the John Wood Group, MJW is designing and constructing a turn-key prefabricated metal building that will house two electric fire pumps and a diesel fire pump that will service fire mainlines protecting hangars and other facilities at the naval air station, which trains half of the Navy and Marine Corps' tactical fighter pilots. The fire protection system requires far more water volume than what's available through the municipal water system, so MJW will also build an above-ground water tank that will hold roughly 500,000 gallons.
The project will be quite the proving grounds, as it has already presented both logistical and engineering challenges, in particular due to the poor soil conditions at the air base. The team has conducted a number of surveys and geotechnical reports and taken extraordinary measures to design a deep-foundation solution that will last over time, said Steven Raney, MJW's area manager.
The project will also require detailed planning and communication with Navy officials. The base's existing pump house--as well as the airbase's operations--will remain active until the new pump house is completed. MJW will oversee the connection of the existing mainlines to the new firehouse, as well as the demolition and removal of the old pump house and water tank.
"There's a sophisticated sequencing. We have to build it and not interfere with the existing pump house or their operations at the base," Raney said. "We will have to be in close coordination with the Navy about any outages or impairments in the system in order to not interrupt their operations and training."
Raney said MJW is about halfway through the design phase and expects construction to begin by the end of 2020. He expects construction to be completed by the middle of 2021. Click below to learn more about NAVFAC.
April 01, 2020 | by MJWood