MJW REPAIRS AGING WAREHOUSE AT OWENS CORNING
MJW Consolidated is saving an aging warehouse at an Owens Corning plant in Jacksonville, Florida from the wrecking ball by making badly needed structural repairs and expanding its footprint to allow the company to store more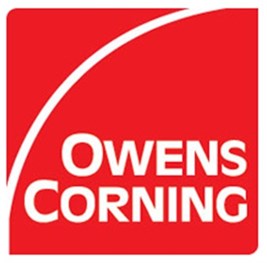 fiberglass that is produced at the facility.
Time and hurricanes have been tough on the warehouse, which was built in the 1940s. The building's wooden columns and roofing trusses have deteriorated, causing the warehouse to list and lose stability.
Owens Corning contracted MJW Consolidated several years ago to reinforce some of the wood structures with steel supports. The company brought MJW Consolidated back in December for another round of repairs and a renovation.
The first task was addressing a failing 32-foot wooden support column and strengthening a wooden roof truss. The team decided to keep the existing structures in place and reinforce them with steel. While this was the most cost-effective solution, the approach presented some challenges. 
Since the existing roof truss and column will remain in place, the crew took precise measurements in the field to ensure the new components would fit. Erecting the tall steel column under the warehouse's roof was a difficult endeavor, which the crew accomplished through the careful operation of an oversized forklift and skillful rigging.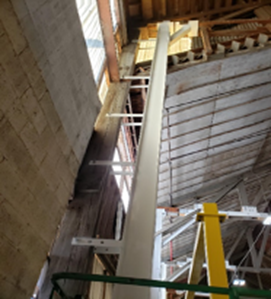 The steel column was built slightly shorter than the height of the truss so the crew could slide it directly in front of the column and underneath the truss. Once the column was in place, the crew  cranked four jacking bolts outfitted on the steel column's base plate to raise it to the proper height. Then, the crew installed steel shimming plates between the floor and the baseplate and removed the jacking bolts. The steel column was then bolted to the wooden column, allowing the two components to act as one supporting structure.
The crew also reinforced the wooden truss by sandwiching it between two steel plates attached with thru-bolts. MJW's highly-skilled crew carefully drilled perfectly straight holes through the 9-inch-thick wood so the bolts could fit into the pre-drilled holes on each steel plate. The crew then installed a knee-brace support between the steel column and the underside of the steel plates on the truss. To protect the new column from being struck by forklifts, the crew installed bright yellow steel tubing in front of it to act as a barrier. 
MJW will also increase the warehouse's storage capacity, by removing a wall separating the warehouse and an outdoor loading dock, installing steel columns for added support, and boxing in the area with new walls.
February 01, 2020 | by MJWood