MJW Performs Hydrant Maintenance and Repairs at Georgia Pacific's Palatka, Florida Plant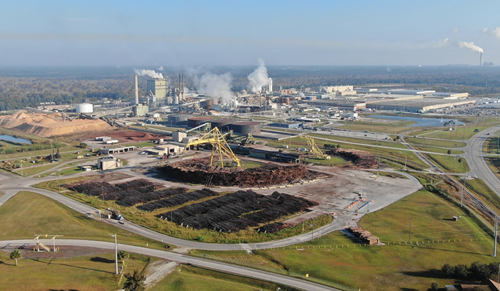 MJW and Georgia Pacific have enjoyed a long-term relationship with MJW providing GP with fire protection consulting, engineering, construction and maintenance services for decades. As part of this partnership, regular hydrant inspections and preventative maintenance are provided at GP's Palatka plant. After each such hydrant inspection, any found deficiencies are evaluated in detail to determine if a repair can be made or if a complete replacement is necessary. Factors including whether the hydrant may be stuck in the open or closed position, whether its operating nut is spinning, hydrant's age and location with regard to buildings, equipment, utilities etc. are all taken into account. Other factors considered are the ability to isolate the underground fire main loop to perform the repairs and whether it needs to be done during a scheduled outage.
When it comes to executing work in the field, thorough safety measures and procedures are always followed, and the risks such as the weather, safe egress, barricades, traffic, sound footing, the existing piping, restraints, leading edges and similar are continually addressed throughout MJW's work progression.
MJW has performed numerous hydrant repairs and replacements at the Palatka facility over the years and continues to be GP's reliable partner when it comes to their fire protection systems.

June 01, 2023 | by MJWood