MJW INSTALLS REPLACEMENT FIRE MAIN FOR BOEING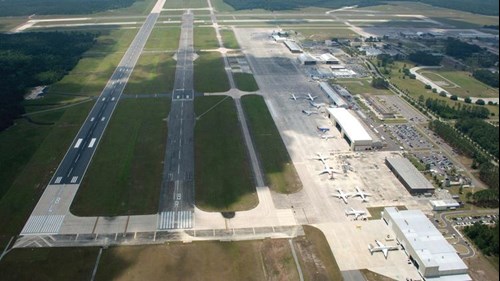 MJW Consolidated completed the installation of a replacement fire main for the Boeing Company to protect its aircraft hangar at Cecil Airport in Jacksonville, Florida, a project that required a high degree of planning and attention to safety. The new 12-inch fire main was installed inside of the utility tunnel underneath the hangar, in place of the current fire main which started showing some signs of deterioration and, considering the high value and mission-critical nature of the assets it was protecting, the United States Navy and Marine Corps jets, needed to be replaced. As Boeing needed the hangar to remain operational at all times, MJW designed and installed a 400-foot run of HPDE pipe as a temporary, above-ground fire main to provide protection for the facility during the construction. The system featured a removable "gate" section to allow aircraft to enter and leave the hangar, which was able to be depressurized, drained and opened within an hour's notice.
In order to protect crew members working in a confined tunnel while installing the new pipe, MJW first developed a safety plan that was approved and refined by the City of Jacksonville's Fire and Rescue Department. 
Before the underground work began, MJW held a pre-construction safety meeting attended by the captain of the airport's onsite fire station. The team discussed the project's scope, where workers would be located during each stage of the project, and rescue plans in the event a worker was injured while inside the tunnel.
"It's not a very pleasant environment to be in. It was only 12 feet tall and 12 feet wide, and it was full of other utilities. The walking space was only two feet wide." said Danny Horne, MJW's project manager. "We wanted them to understand where they'd have to go to get to us."
MJW also installed flashing red beacons at each of the tunnel's exits so workers would know where to go in an emergency, and caution signs at each exit to warn others that a crew was working underground and to not block the openings.
After three weeks of grueling work in the service tunnel, the crew completed the installation of the new system more than a month ahead of schedule.
Although work commenced in November, the team began planning for the project in July. The fire main has passed the city's permitting inspection, and the team has also removed the temporary main. MJW completed the project with zero safety incidents.
"It was a successful job. There was a lot of prep work, and everybody went home every night," Horne said. "I'd like to thank our foremen, engineer, installation crew, along with our alarm support staff and our shop support."
March 01, 2020 | by MJWood