MJW INSTALLS RECYCLING HOMOGENIZER FOR CONTINENTAL GYPSUM PLANT // JANUARY 2018
Continental Building Products has chosen MJW Consolidated to install a new homogenizer system to increase efficiency at its Palatka, FL, plant by capturing gypsum waste and returning it to the production stream.
The project, which began November 2017 and is scheduled for completion at the end of March 2018, includes installation of a 26,000-pound homogenizer as well as fabrication and installation of two large piping systems and structural steel supports.
The new system will enable Continental to recycle waste from the wallboard manufacturing process by processing it through the homogenizer to create a consistent material that can flow back into the production line. MJW is responsible for setting in place and welding together the two components of the homogenizer, providing and installing the supports and piping, and tying in the system to the production line.
MJW is self-performing all aspects of the project. Two large piping skids are being fabricated at MJW's onsite shop at Palatka, where the company provides a wide range of ongoing construction and maintenance services for the Continental plant. In addition, the MJW fabrication shop at Lakeland, FL, is constructing the support structures for the homogenizer.
The work has been closely coordinated with the operations team at the plant, which has continued operating throughout the course of the construction. The final tie in will take place during a two-day outage.
When fully operational, the new system will enable Continental to increase the amount of wallboard it can produce from each shipment of raw gypsum supplied to the plant.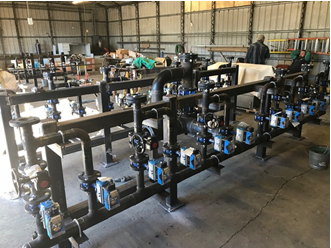 January 01, 2018 | by MJWood