MJW INSTALLS INNOVATIVE TRUCK DUMPER SYSTEM FOR DRAX BIOMASS
Drax Biomass, an Atlanta-based wood products company that uses innovative techniques to manufacture pellets as a renewable, low-carbon fuel, has contracted with MJW Consolidated to bring innovation and efficiency to its wood-chip unloading process as well.
MJW is installing two BRUKS® truck-dumper systems and associated equipment at the Drax Amite BioEnergy facility in Gloster, MS. The dumpers reduce the time required to unload chips at the plant by eliminating the need to decouple the trailer from the truck tractor. Instead, the truck backs onto a platform, which is elevated at a 75-degree angle by two massive hydraulic pistons, allowing the chips to flow from the trailer into a receiving hopper.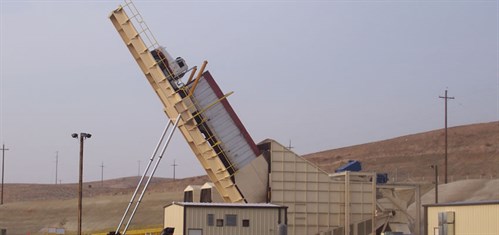 MJW is responsible for unloading, staging, assembling and erecting the truck dumps as well as conveyor systems, screens, silo with screw reclaimer and bucket elevator. The project began in mid June and completion is scheduled for early September. Throughout construction, MJW is working closely with the Amite BioEnergy production team to ensure operations can continue without disruption.
Wood pellets produced at Amite BioEnergy and other Drax Biomass facilities are shipped around the world, allowing electric utilities to reduce their dependence on coal, to lower carbon emissions and to provide new sources of safe, reliable and affordable power.
August 01, 2017 | by MJWood