MJW Completes Removal and Reinstallation of Dock Tower Crane for Marathon Petroleum
In late 2021, MJW contracted with Marathon Petroleum in Jacksonville, Florida, to remove their existing dock tower crane so that it could be refurbished and reinstalled with a minimum amount of disruption. The tower crane is utilized by Marathon to connect hoists from their dock to fuel
supply ships in order to transfer fuel products to their storage tanks until they are ready for distribution to the gas stations via fuel trucks.
A barge with a 165 ton crane was rented from Mobro Marine to remove the dock tower crane and hydraulic pump. The tower crane was then placed on the barge and transported down river to be unloaded and shipped to Certified Boom Repair Service, Inc. in Tampa where it was fully disassembled, refurbished and reassembled following a detailed repair plan.
The refurbishment was completed in October, and after making its way back to the Marathon Petroleum dock via barge, the crane was reinstalled by the MJW team in November and placed back in service.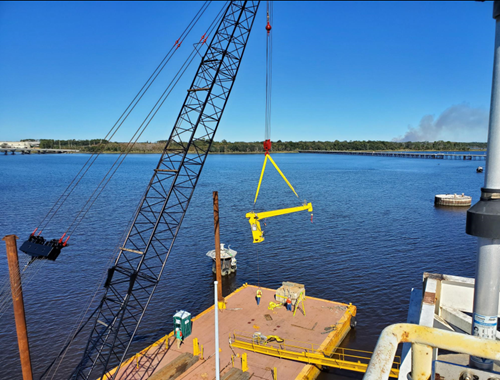 November 01, 2021 | by MJWood