MJW Completes Project to Enable Praxair Plant Expansion on Space Coast
MJW Consolidated has paved the way for a major expansion at Praxair Corp.'s air separation plant in Mims, Fla., to meet growing demand from space exploration customers and other Central Florida industries.
Before Praxair could begin the expansion, which will double production capacity at Mims, the company needed to reconfigure the site by repositioning two major production systems and building a new road for truck traffic. Praxair awarded MJW the phase-one project, which included equipment relocation, removal and installation; laying of four types of piping; and roadway and parking lot construction.
Work began in mid-December and was completed in March. "We met a tight schedule that required completing the many elements of the project in carefully phased sequence," said Chris Timpe, MJW project manager. "We needed to perform as much work as possible prior to relocating the production systems and move quickly to minimize disruptions."
To create space for the plant expansion, Praxair contracted MJW to perform all of the work necessary to build a new internal roadway for trucks carrying atmospheric gases to circulate through the site. Two existing production systems — a forced air drain vaporizer (FADV) and oil and gas separator — stood in the path of the new road and needed to be relocated. MJW removed the existing oil and gas separator and installed new equipment at another location within the plant, then moved the FADV during a planned 24-hour outage.
The work included installation of stainless steel piping for the FADV and carbon steel piping for the separator, all of which was fabricated by MJW. In addition, the project required burying approximately 400 feet of fiberglass piping and electrical duct-bank from the existing cooling towers to the expansion site.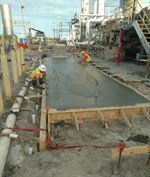 Another component of the project involved moving two fire hydrants and piping for the plant's fire water supply. MJW's fire protection team performed this work, in addition to electrical work associated with the FADV and oil and gas separator systems, as well as lighting fixtures on the new roadway, which was performed by MJW's electrical team. After all of the preparatory work was complete, the asphalt paving work for the roadway and parking lot was performed by a subcontractor.
"This was another example of MJW's ability to manage challenging project schedules by coordinating with our internal teams as well as plant personnel and other contractors," Timpe said. "We're proud we were able to complete our portion of this important Praxair project safely and on schedule." 
March 01, 2019 | by MJWood