MJW ASSISTS DRAX BIOMASS URANIA PLANT INCREASE PRODUCTION CAPACITY
MJW Consolidated is helping Drax Biomass efficiently receive and process dry wood shavings at its manufacturing facility in Urania, La., where the material is converted into wood pellets that are burned by the company's power plants in the United Kingdom instead of coal, creating the energy from renewable resources.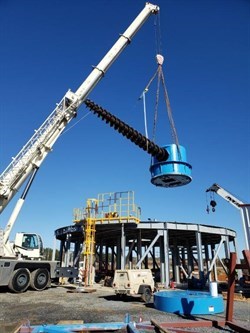 MJW is installing a complete system that allows delivery drivers to empty payloads without decoupling trailers from trucks. Drivers park their trucks on a 20-foot-wide, 94-foot-long steel truck dumper, which rises nearly straight into the air like a drawbridge. With the help of gravity, the wood shavings empty from the rear of the trailer into a giant steel hopper. From there, the material is fed onto a bucket elevator that moves the material into a 90' high storage silo. From there the material is moved nearly a fifth of a mile to existing production equipment to be processed into the final product.
In addition to building the truck dumper, steel hopper and 1,000-foot-long conveyor belt, the team erected a 90-foot-tall, 63-foot-diameter galvanized steel silo that sits on a 13-foot-tall steel support base. They also outfitted the silo with a 72,000-pound, 30-foot-long stainless steel reclaimer screw that pulls material from the center of the silo to the conveyor belt.
Installing the heavy equipment requires special rigging, and skilled workforce. The inclement weather has delayed work since the project began in October, said Jeff Kinney, MJW's project manager. Nonetheless, the crew has worked without a single safety incident, and Kinney said he expects the project to be completed under budget by the end of February.
December 01, 2019 | by MJWood