International Paper Savannah Chooses MJW for Concrete Foundation for Heavy Lift Crane Piling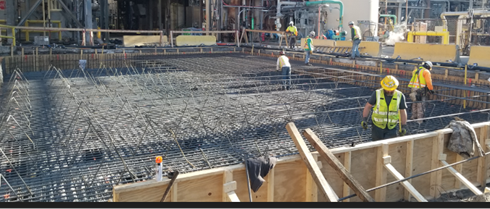 MJW recently completed a new concrete foundation at International Paper's facility near Savannah, Georgia. The foundation will support a third party Manitowoc MLC650 crawler crane with a variable position counter weight--providing a lift capacity of over 800 US  tons--for removal and re-installation of K1 digester dome during the annual outage.
Prepping for the new foundation included the removal of concrete and asphalt pavement; the excavation, shoring, dewatering, and removal of existing abandoned RCP pipe and abandoned electrical service; and the furnishing and installation of 96 H pile, 46 tons of rebar, and 460 cubic yards of 6000 PSI concrete. The large size and thickness of the foundation created a concern for "heat of hydration" (the heat generated by chemical reaction with water) of the mass concrete particularly the temperature difference between the surface of fresh curing concrete versus the center of the mass. To better understand and to mitigate the potential problem of widespread surface

cracking due to having very hot concrete in the center and much cooler concrete on the surface, MJW suggested a test foundation of a smaller 5ft x 5ft size but same thickness to be placed with temperature monitoring and heat mitigation consisting of concrete curing blankets. The test foundation was completed with temperature sensors embedded in the concrete and monitored; the test showed that the surface temperature was within limits versus the hotter center concrete. The curing blankets kept the surface warm enough compared to the center of the foundation to eliminate any cracking potential. An identical process was then implemented for the concrete placement of the 70 x 46 x 3.5 thick foundation utilizing three layers of curing blankets. Concrete temperatures were monitored by International Paper and remained within limits throughout the curing process. All concrete compressive strength tests exceeded required design strength of 6,000 PSI.
The project was completed one week ahead of schedule and under budget.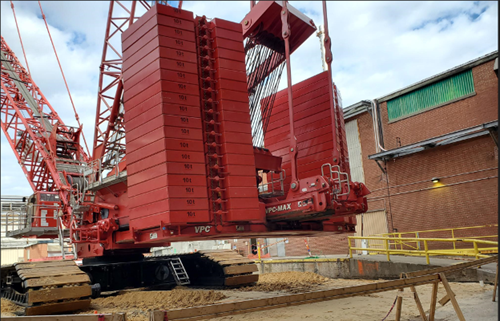 January 01, 2023 | by MJWood