Andritz, Inc. Selects MJW for Complicated Project on Short Schedule in Cedar Springs, Georgia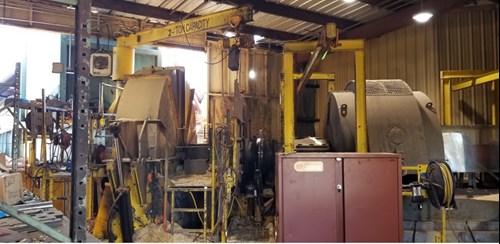 MJW has been contracted by Andritz, Inc. for the replacement of an existing 120-inch wood disc chipper at the Georgia-Pacific facility in Cedar Springs, Georgia. The existing disc chipper is set to be replaced with a new Andritz twin-drive horizontal-fed disc chipper. Disc chippers are the most important piece of equipment in the wood yard because they have the potential to either produce high quality chips or to destroy expensive raw materials and cause production stoppages.
The beginning of the project required removal of the existing roofing on the chipper building and the monorail systems to be able to safely remove the existing chipper and its motor, weighing 47.5 tons. This was followed by removal of the infeed and discharge chutes and the demolition of the three existing concrete foundations. Once all demo was complete, the next task was to form and pour three new concrete foundations, assemble and install the new disc chipper, install and laser align the new twin drive motor assembly to the new chipper, fabricate and install new infeed and discharge chutes and a new chipper access platform, and reinstall the chipper building roof.  Due to the importance of the disc chipper to the facility's daily operation, MJW had to work around the clock for twenty-one days straight with twelve craftsman per shift to meet the owners' schedule. This project required our team's full attention due to the demanding project schedule, heavy equipment weights, weather issues and the precision required to meet the tight equipment tolerances. Excellent communication and organization led to the success of the project on time and on budget.
Andritz is an international technology group employing more than 29,100 employees, and serving four main industrial industries: hydroelectric, pulp and paper, metals, and separation.
This is the first opportunity for MJW to contract directly with Andritz Pulp and Paper Division on a project, and the company looks forward to building a strong working relationship on this and all future projects.

July 01, 2023 | by MJWood