30,000-SQUARE FOOT CONCRETE POUR AT DOME TECHNOLOGY IN SAVANNAH, GEORGIA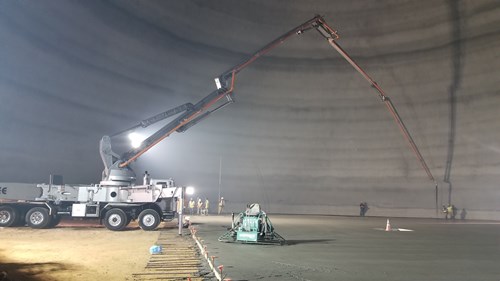 MJW was awarded and has successfully completed a challenging 30,000-square foot concrete pour and finish work for Dome Technology of Idaho Falls, Idaho. The concrete slab was located inside of the new 200-foot diameter wood pellet storage dome at the East Coast Terminal in Savannah, Georgia, and could be accessed only through a single doorway into the storage dome.
The project plan called for MJW and concrete pumping subcontractor Cherokee Concrete Company to utilize two large boom concrete pump trucks and bulk slicklines, all configured to handle two concrete delivery trucks at a time. However, due to the lack of space inside the dome and the limited dimensions of the dome opening, that would not be feasible.
MJW's team led by Area Manager Scott Bennor reworked the plan using a smaller pump truck outside of the dome that fed the concrete to the main pump truck inside of the dome. This plan eliminated the need to install bulk slicklines and the need for a crew of six to eight additional men to handle and move those lines.
The pour prep work began at 2 a.m. and by 10 a.m. the 800-cubic yard concrete pour was complete. Experienced supervision and teamwork saw the project to a safe completion. MJW recognizes its entire construction team lead by Johnny Beecher, Denton Brantley and Adam Music. MJW also thanks Fielding Davis of Dome Technology for allowing MJW the opportunity to showcase the abilities of our talented and well-trained union craft.
January 01, 2021 | by MJWood